Theatre Music
Loz Kaye's interest in theatre music started already as a student at Cambridge University. Four of his shows "Goddess", "The Bacchæ", the musical "Going Up" and a production of Lorca's "Blood Wedding" were selected for the National Student Drama Festival. The score for "Blood Wedding" won a Judges Award.
Since turning professional in 1994 Loz Kaye has been particularly associated with leading British visual theatre company Horse + Bamboo. He has been an integral part of what Jane Horrocks describes as this "must-see company" for over a decade, giving musical voice to the masks of Bob Frith. For 3 years he worked full time for the group and is currently an associate artist with the company.
As composer he has created music for many of their shows - "Visions of Hildegard", "Legend of the Creaking Floorboard", "The Slipper Factory", "White Stag Cantata", "Harvest of Ghosts", "Company of Angels", "A Strange (and Unexpected!) Event", "Veil", "Little Leap Forward" and "Deep Time Cabaret". He worked as a musician and performer on the shows "Dance of White Darkness", "A Westminster Crucifixion" and "In the Shadow of Trees".
Horse + Bamboo's touring programme has taken Loz Kaye's music far and wide - with performances to date in Britain, Ireland, Holland, Belgium, Hungary, Slovakia, Austria, Germany and the USA. "Harvest of Ghosts" was nominated for a Manchester Evening News award, and "A Strange (and Unexpected!) Event" was winner in the category "Best Special Entertainment" at the Manchester Evening News awards 2005.
Whilst living in Denmark Loz Kaye became musical director for Århus based theatre Thalias Tjenere. They are Denmark's only professional mask company and have a range of shows for performance both in and outdoors, focussing on touring in Denmark and Norway. He has created music for their productions "Lommeoraklet (The Pocket Oracle)", "Hr. Helmer Går ad Helvede til (Mr. Helmer Goes to Hell)", "Den Store Bastian (Shockheaded Peter)" and "Sans (Sense)". A highlight of their work was the invitation to represent Denmark at a festival of theatre from the EU in Japan during 2005.
As a composer working in theatre Loz Kaye has had a long standing interest in musical theatre. In 2005 his musical "Beginner's Guide to Cybershopping" was premiered. This irreverent, but affectionate look at virtual car boot sale phenomenon eBay was commissioned by the Stephen Joseph Theatre, Scarborough. The show reinterprets the form of the musical with a score referring to gospel, pop, even minimalism. And a tap dance number with kitchen utensils.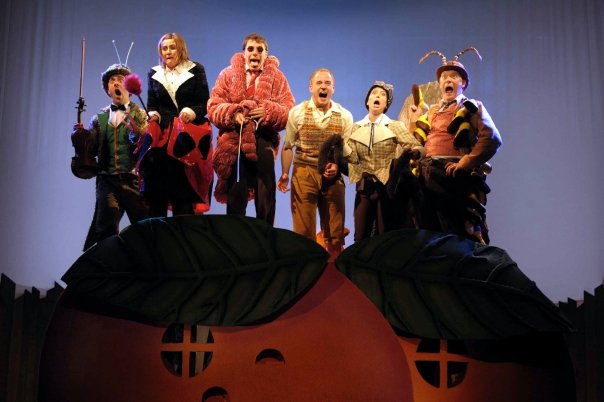 Since 2007 he has worked on several productions at the Royal and Derngate Theatre, Northampton. He has written music for Shakespeare's "Twelfth Night", Ayckbourn's "The Time of my Life", and Roald Dahl's "James and the Giant Peach". But his greatest challenge to date has been the production of Justin Butcher's "The Firebrand" directed by Dani Parr, involving 3 seperate theatre spaces, 70 performers, a choir and lasting over 3 hours. Not to mention singing stalactites.
Other theatre credits include Trestle Theatre's "The Glass Mountain", "Hypothermia" and "In the Footsteps of Mr Butler" with Full Body and the Voice Theatre, Lorca's "Yerma" at the Embassy Theatre, London; Tim Fountain's play "Tchaikovsky in the Park" at the Bridewell Theatre, London and Aarhus International Theatre Company's Scandinavian and Russian tour of Tennesse William's "Night of the Iguana".